There is no competition when you manifest your own lane. While she surrenders to her influences, she remains honest to her instincts and impulses. Kido Mafon was born in Japan, raised in North Carolina from age 3 to 12, and has been in Tokyo since. As a 21 year old, she is a force to be reckoned with. Her body is busy serving as a canvas to 11 quirky, outspoken tattoos, and her mind is busy innovating new ways to hide her 11 tattoos from her mother and creating content as an editor for Hypebeast. Tattoos are infamously taboo in Japan - it was previously seen as the symbol for gang affiliation, and even in the 21st century it remains a stamp for rebels, rascals, and life long drop-outs. Yet, despite the efforts to label her these things, Kido Mafon has defeated these odds with flying colors. Leading street culture trends at Hypebeast? So far, ​too ​good.
As a 12 year old, uprooting her life in North Carolina to Japan was tough for her. She says that the unspoken expectation of having to be like others and adapting to the ever present ​nare-ai culture was crippling to her. "Things still feel a little group-y to me. Even if someones interesting, they tend to bunch up because the fear of being alone is so embedded in this culture." Admitting to always doing the opposite from what she was told, a reaction she often elicited in people was "What is this kid doing?" It wasn't necessarily that she wanted to do things differently, but to this day, she says "I feel and have always felt different. I don't know why. Inside I feel it, but I just can't explain it, it's just this feeling and I've always known it." Kido Mafon is not exactly the cookie cutter ​joshi-daisei,​ in her visible tattoos, bleached bangs and expressive outfit and she can be prone to being an outcast. She, however, embraces the feeling, reassured that she is not buried amongst a sea of clones. She says, "I'm here to better myself, and I don't feel for a need to belong in a group." While admitting to feeling 'left behind' at certain points in the past, she quickly recovers, "Everyone feels that way but they just don't say it." She remains unapologetically herself whilst navigating the maze we call the ​early twenties.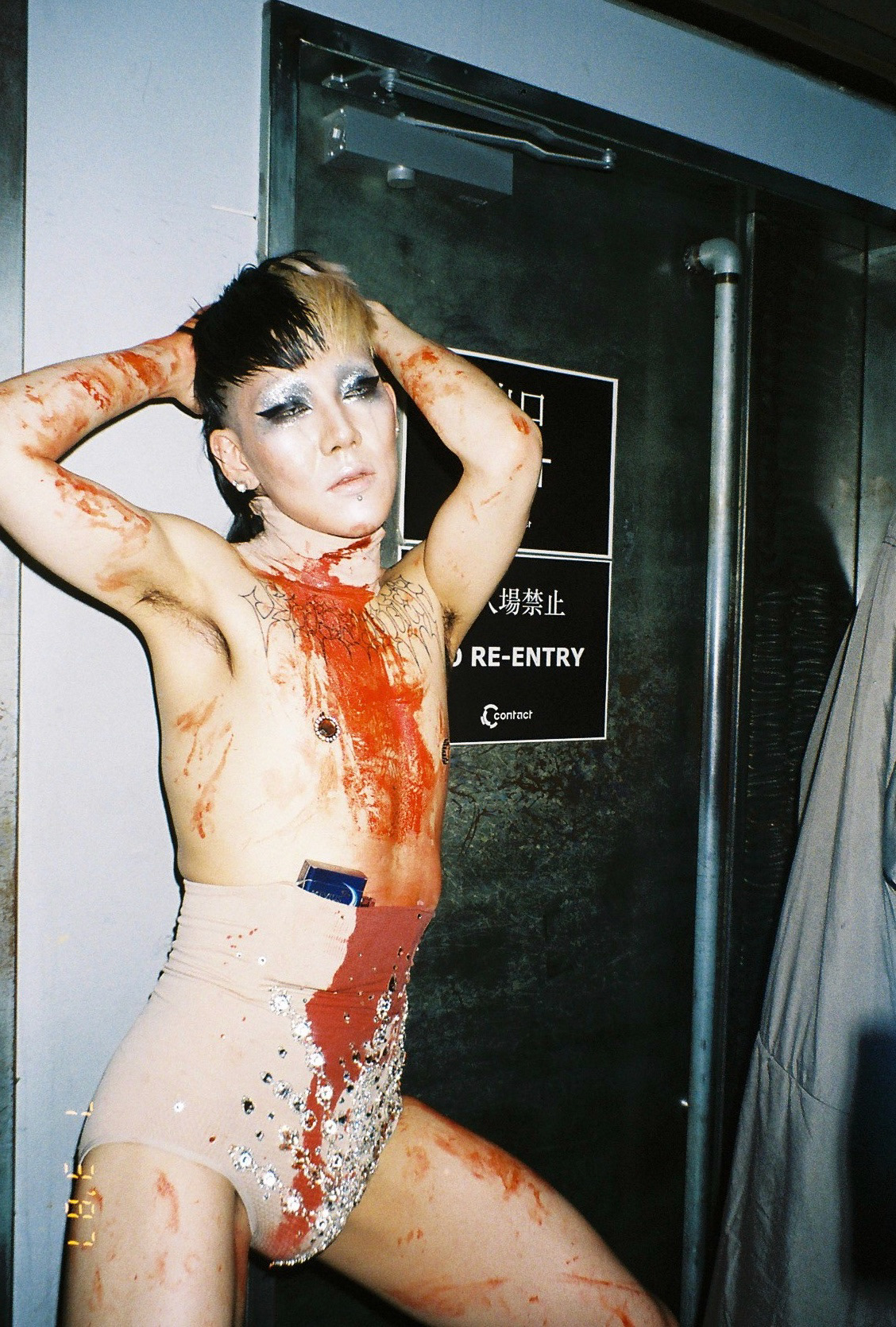 Her work is scattered and spontaneous but distinctly, and identifiably, Kido Mafon. It shares darker hues, grainy speckles and pops of wacky neon. Much like the artist herself, the products of her mind refuse to be contained. It's an intersection between fashion, portrait and landscape photography incorporating elements of surrealism and graffiti. She manifests her creativity via a wide range of gadgets - films, digitals, broken iPhones and the nostalgic Lumix cameras we all have forgotten in the drawers under the TV console. She started in the industry staging shoots with models, and slowly unfolded into capturing the unexpected in mundane moments. Perhaps that's why her photography feels raw, authentic and present - it's unapologetically as it is, without staging itself to be something it's not. A lot of her work is shot amidst a chill Friday evening, kicking it back with some friends in the undiscovered nooks of Tokyo. Much like the mind behind the camera, her friends have bold, striking street influences, and wear their individuality on their sleeve. Naturally, these candid snaps capture their culture - edgy, urban and unrepentant. She says none of her work is particularly sentimental. As a heavily visually oriented, in-the-moment-type, her eyes tend to chase fashion, colors and composition over memories. In her words, "If I'm happy with my art, I really don't give a fuck." Her art is a rule breaking, eclectic product of her mind.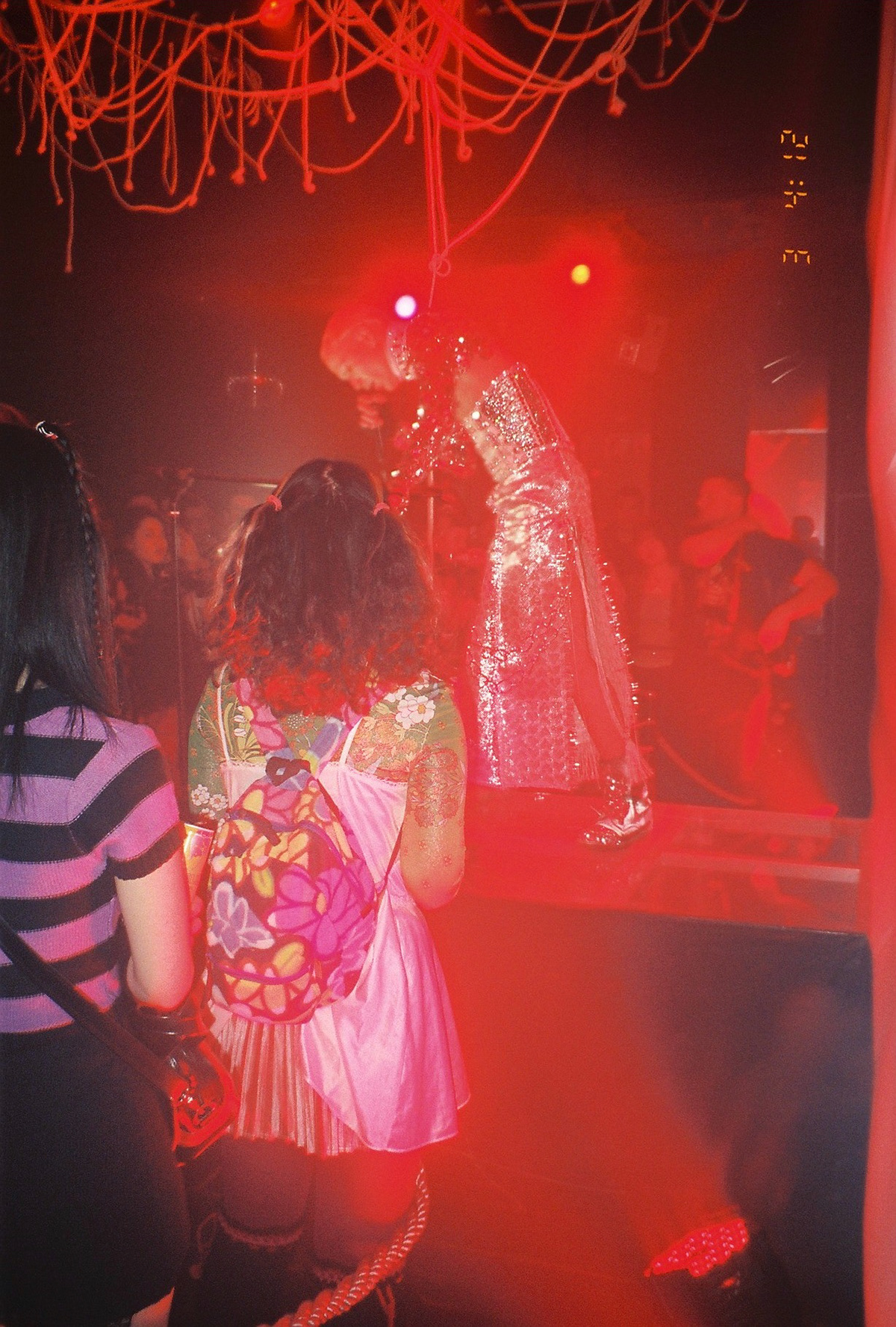 She's innately at-one with Tokyo street culture; she thrives under the glaring neon boards in midnight Shibuya, in the 'your grandma's closet' smelling vintage stores in Kichijoji and the forgotten underground bars in the crevices of Nakameguro. She's a fish underwater, confidently experimenting with different aesthetics, exploring new brands and constantly capturing new backdrops in this metropolis. The sense of ease she feels in the rustle and bustle of the city permeates in her work, and it's undeniably one of her strengths.​ ​Her favorite personal work thus far is titled 
​back scene
. I​t​ ​features New Riot Terror's iconic tee shot in a grimy parking lot. This snap was reposted by the brand on their Instagram, and she recognizes that there are endless possibilities for her in a career of merging fashion photography and portraits. Her fashion is expressive, androgynous and particular; her outfits have big, bold attitudes and she pulls it off without breaking a sweat. She says; "I really like vintage archives, and I love custom stuff because I don't want people to know where I got it from, and I don't want to dress like everyone else." Her experimentation with personal style and street inspired vintage pieces most certainly fuels her art - she has almost organically trained her eye to spot style icons on the streets to capture in her photographs.
Bold, light hearted, and in the moment - we would expect nothing less from Kido Mafon's tattoos. You can catch a glimpse of the fire on her 'fear' chest piece peeking from the rim of her shirt. The inspiration behind this one was her admission to being 'most scared of being afraid of something' because it prohibits her from making power moves, and taking opportunities - so she decided to visually burn the word, and got it inked. However, she gets cheeky and admits that ironically, her current biggest fear is her traditional mother finding out about her tattoos. In order to hide them, she wears turtlenecks and long sleeves around the house; even in the brutal Japanese heatwaves, she insists to her family that it's a 'fashion statement'. Her other permanent installments include a high Loony Tunes bunny with high bloodshot eyes that she spotted on a telephone pole, and the quote "she is art" in typewriter font across her rib. On the behalf of her 11 tattoos, she confesses "I didn't think them through - they're for visuals over meaning, and they were definitely spur of the moment choices."
For a little challenge, we asked Kido Mafon which three art pieces she would save, given all of the art in the world were to disappear. When she likes an art piece, its ineffably instinctual. After some contemplation, her list was as follows:
Hajime Sorayama's
 ​Sexy Robot ​series,
Hugo Comte's
photographs
and
T-REX's
 ​Lost Angels ​series. Hugo Comte has been one of her greatest sources of inspiration, both in terms of his artistic creations and the spirit behind his work. Kido Mafon's take on his photography is as follows: "He uses digital in a unique way, Not just in an obvious way, but in a 'dang that's how you use digital' type of way." Beyond his photography, she is also drawn to the attitude his work exudes, "It's like he is able to do what he wants to do without thinking about what's on trend." As for T-REX's ​Lost Angel ​she liked it so much, she got it permanently installed on her body - the 10th addition to her (not so) secret tattoo collection. This is in true Kido Mafon fashion - utterly instinctual and alive in this present moment. If she feels like it now, she will immediately do it, no matter how permanent the results. When asked if she regrets anything she has done, living in this honest way, she immediately responds, "Nah, I do things in the moment, I'll do anything and I'll always be okay with that."
When asked what her work aims to say, she is expectedly honest : "Enjoy the moment, because everyday is not gonna be the same. The people you're with right now, your friends, you think it's permanent - but things happen. People think that their loved ones will be there for them forever, when they're really not; so you gotta just enjoy the little moments that they are."She wants to live in the now, and express her 'now'; her work is a visual time stamp of herself, in the lens of fashion-portrait-landscapes. Perhaps this is what we should take away from her - not all art has to be this big, complex thing with a grand story and social impact. It can be as pure as the depiction of your current state of mind, and the art still means just as much.